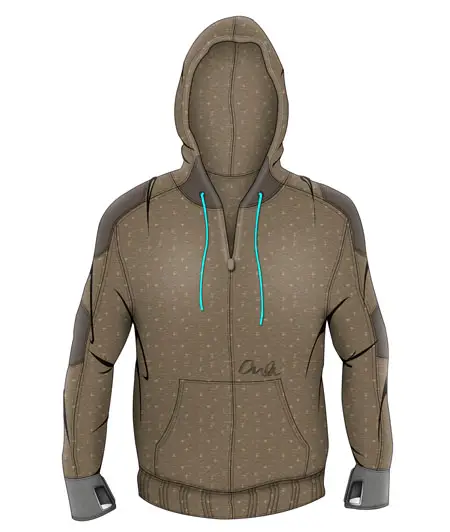 A few weeks ago, I posted about the killing of Trayvon Martin, the case with which most of us in America are familiar by now. This killing was and continues to be a terrible scenario, and I spoke about my pain over this situation, and the need for Black people to know our history in this country.
But if you go back and read my post, I didn't say anything substantial about the hoodie that Trayvon was wearing that night. I didn't defend that item of clothing. And you know why? Because I think the championing of the hoodie as a symbol of racial profiling is misguided.
For the past few weeks, I've  looked a pictures of folks in their hoodies, which is how they shared their solidarity with Trayvon Martin. And I've felt as if folks have looked askance at me, because not only haven't I shared a picture of me in a hoodie, I've openly talked about the fact that I won't be wearing a hoodie in the first place.
Just last night, I had a young girl—no older than twenty-five—call me out in the most disrespectful, harsh ways–ways that one should never talk to an elder– for my supposed "pettiness" and my being "bourgeois" when I posted on Facebook and argued that we needed to be honest with young Black men about the fact that the hoodie was not a great item of clothing for professional advancement. That young Black men wearing this clothing weren't going to walk into a job interview and come away with employment and as a result, economic power.
Over the past few weeks, people on Twitter also have implied that I just don't care about Trayvon Martin's death, or implied that I have accused Black people of being stupid simply because I've told them that, instead of being caught up in the moment of the hoodie, they need to read and educate themselves (by going to the library) on the long history of racially profiling African American men in this country.
Can I ask you something? When did it become a crime for a Black English teacher to, like, tell somebody else Black that they needed to read a book? Because that's what I am. I teach in the English department of a university, okay? I read, write, and teach books for a living, y'all. My twitter handle is "@blklibrarygirl". Get it?
And then, of course, in the middle of all that, there has been the hullabaloo over the comments of Gerald Rivera, who argued that the wearing of hoodies of Black and Latino youngsters—males—is a justification for racial profiling. If this were eighteenth-century Boston, Massachusetts someone would have tarred and feathered that man and paraded Rivera in the streets. People have been so nasty and frankly, frightening, that Rivera retracted his statements.
But let me say what I have been wanting to say for the past couple of weeks, but have been too afraid to do so, lest my (admittedly much, much smaller) group of followers online do the same thing to me as Rivera had to withstand. He might have had wrong motivations for saying what he said about the hoodie and how he said it, too, but at the end of the day, the hoodie does a mixed message, sometimes a wrong message. And that's why we need to be careful about conflating that particular item of clothing with racial profiling of young, Black men.
Yes, I said it. It had to be said.
Let me be very clear. Trayvon Martin did not have any responsibility to rethink his clothing that fateful night that he walked to the store to buy his candy and his iced tea.  Trayvon was an American citizen and he was child of American citizens and they are the children of American citizens and so on and so forth. American citizens do not have the responsibility to show their identification papers to someone who is not a police officer while walking in their own neighborhoods.  This is not 1850 and we are not living under the Fugitive Slave Act, okay?
Trayvon had every right in this world and the next one, too, to wear his hoodie. He was doing nothing wrong in the least. But  it's not that hoodie that caused Trayvon to be stalked and killed by George Zimmerman.
Trayvon was stalked and killed because of racial profiling. That's it, plain and simple. And, quite possibly, he might have been stalked and killed because George Zimmerman might not be all there mentally, though that remains to be seen. The hoodie had nothing to do with it.
And further, the hoodie is not always a great item of clothing.  You can call me names for saying that, you can leave mean comments below, you can say whatever you need to say to me. But you know what you can't do?
You can't show up to the bank and get money from a teller wearing a hoodie over your head. Why? Because your face is obscured.
You can't go through airport security wearing a hoodie over your hear. Why? Again, because they don't know who you are. Sometimes, I've even been asked to take off my glasses at the airport because I wanted to be cute in my driver's license photo and I didn't put them on for my picture. And in that case, you know I can't be wearing a hoodie.
And further, you can't take your driver's license picture wearing a hoodie over your head in the first place.  And you know why? Because sometimes, criminals of every race, creed, religion, gender, and color actually do wear hoodies to commit crimes.
They wear hoodies to rob people. They wear hoodies to come up behind folks and shoot them dead without being recognized.
As someone pointed out to me last night online, the mock-up picture of the Unibomber pictures him wearing a hoodie. The Unibomber, y'all? The Unibomber? Do we really want to connect that handsome, sweet, beloved boy Trayvon Martin with the same item of clothing worn by the Unibomber? Think about that for a second.
Did Trayvon Martin commit any crime? Of course not.
Did Trayvon Martin have a right to wear anything he wanted to that was in his closet? Of course he did.
Trayvon Martin didn't do anything but walk in the rain with his candy and iced tea cloaked in his Black skin, skin that is not offensive to anyone except someone filled with racial hatred or mental illness. So why on earth are we trying to champion a piece of clothing as the reason behind his getting killed? And explain to me, please, how we are any different from White supremacists when we talk about how a piece of clothing identifies a young Black man?
Take your time. I got a few hours for you to figure out the logistics of that one.
I've actually read Facebook status posts where people compare the hoodie to the hijab. Are you kidding me? Since when is the hoodie a religious statement going back thousands of years?
I've had people debate me online that the hoodie is the same as someone Black wearing his or her hair in dreadlocks or natural.  Really now? The sacred way that God made you, how S/He decided that a part of your actual body springs out of your head is equal to an item of clothing you can buy down to the Abercrombie and Fitch alongside White kids who have trust funds? Alrighty then.
I understand the long history of racial profiling of Black men in this country. Believe me, I'm aware. My mother told me that, before I was born, my father punched a man in Mississippi years ago for calling him the n-word and to this day, I wonder why he didn't swing at the end of a rope.
I have two nephews and I worry about them, a lot. I may not ever have been stopped by the police and harassed because I was living and breathing in a Black male body, but as Tayari Jones talked about so movingly and eloquently on NPR a few days ago, I've spent my whole life worrying about the safety of young Black men I have loved in different ways.
And it's because of that love and because of that worry that I'm concerned now that African American communities are championing—and encourage White people to champion—a symbol that just can't hold the weight of three hundred and ninety three years of ancestral and cultural trauma, ever since the first kidnapped African disembarked in 1619 in Jamestown, Virginia and was renamed "slave."
Those kidnapped Africans weren't wearing hoodies. Quite possibly, those Africans were naked, and their only crime was being in the wrong village on the wrong day, and they ended up following the tragic, mythic red path onto a slave ship.
We need to focus on the real issue of racial profiling of young Black men and understand that, though someone who was loved by his parents and was doing absolutely no wrong was killed while wearing a hoodie, he wasn't killed for wearing a hoodie.
Trayvon could have been wearing biker shorts. In fact, he could have been wearing a corporate suit and tie. And you know what? George Zimmerman would have stalked him and killed him anyway. And that's on him. And that's on the tragic and brutal history of "race" this country. That's not on a hoodie.
We need to find a more lasting –and appropriate–symbol to memorialize Trayvon, one that is not associated with actual wrongdoing, because he didn't do anything wrong. We need to find a better way to honor other blameless young, Black men who were killed as a result of racism, who never did a thing to deserve their sad fate.
The hoodie is not that symbol. But I remain hopeful that we'll find something else, something better, in the days to come.
.