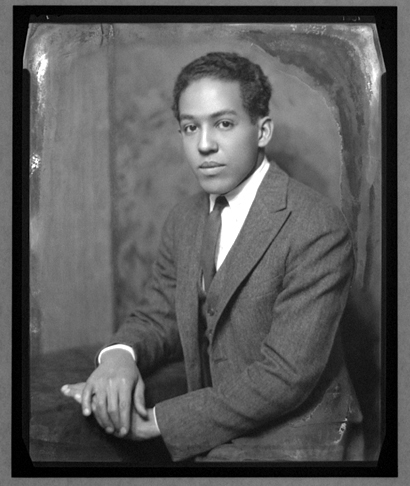 Today, I want to say Happy Birthday to Mr. Langston Hughes. I think there's something very appropriate about his birthday starting off Black History Month/Afropalooza and I hope you do, too.
Langston Hughes is just The Man.  And really, that's what this blog post is about, how fabulous Mr. Hughes was/is.  This is Black History Month, yes, but this also is a blog for grown people who I hope can do their own reading. But I will say that Langston Hughes—along with Zora Neale Hurston, who I must get to sometime during the course of this month—is the most well known creative writer of the Harlem Renaissance.
To read about the Harlem Renaissance as a literary movement that produced several geniuses—or, I should say, several geniuses produced the Harlem Renaissance—click here.
Because I'm doing a bit of writing on the Harlem Renaissance for my real job, I'm going to focus on some of the figures of that time in the next twenty-eight days. Did you know this is leap year? Not only is Black History Month my favorite month, but leap years are my favorite years because I get one extra day to Afropalooza!
Sidebar: Yes, Afropalooza is both a verb and a noun. When I make up words, they are multifunctional, like pig meat grease. Tell me something.
And if you want to read an extensive biography of him and the gajillion books Mr. Hughes published—I told you he was The Man—please click here. This is the best bio I've read of him so far.  It's really excellent.
So let's get to why I love Langston Hughes so much.
Like many African Americans of my generation, I learned to recite poetry by memorizing Langston Hughes's poetry as a child in elementary school. I attended Fayetteville Street Elementary in Durham, North Carolina, a bastion of Black History in its own right.  North Carolina Central University was there—formerly North Carolina College at Durham—and the wealthy Spaldings lived in Durham; they were the founders (in 1898) of the first African American life insurance company, North Carolina Mutual Life Insurance. I was in a Brownie troupe with one of the Spalding descendants; my mother was extremely proud of telling people that, too, much to my embarrassment.
And I know that some of my Black readers know at least one Langston Hughes poem by heart. Who can forget "Mother to Son," the favorite poem of female talent show contestants at predominately African American high schools and colleges across this country? All I need is to recite the first five words, and many Black folks can recite the next eight words.
Well, son, I'll tell you: Life for me ain't been no crystal stair.
And I don't know one Black poet who doesn't know "The Negro Speaks of Rivers." I can't recite by memory the entire poem, but I bet you any Black poet can tell you the last lines of the poem.
I've known rivers:
Ancient, dusky rivers.

My soul has grown deep like the rivers.
By the way, it's because of Langston Hughes that I developed a fondness for colons in my poetry! I just love a colon in a poem. It's really cute on the page, don't you know.
To honor Mr. Langston Hughes Otherwise Known As The Man, I am posting my favorite ever poem by him.  The poem is called "The Weary Blues" and it's the title of Mr. Hughes first published book.
I could tell you why I love it, but then again, I can't. I just do. And I don't want to find reasons. It's like loving a person. It's just a feeling inside, and I don't care if no one else approves. That's that real love.
And guess what?  I found out that I can actually purchase "The Weary Blues" collaboration of Langston Hughes and Charles Mingus! You know I cannot live any longer without owning that collaboration. My life will not be complete without it.  I'm ordering it today.
Here's a link to podcast about the Hughes/Mingus collaboration. And here's the poem below.
—
The Weary Blues
.
Droning a drowsy syncopated tune,
Rocking back and forth to a mellow croon,
……I heard a Negro play.
Down on Lenox Avenue the other night
By the pale dull pallor of an old gas light
……He did a lazy sway . . .
……He did a lazy sway . . .
To the tune o' those Weary Blues.
With his ebony hands on each ivory key
He made that poor piano moan with melody.
……O Blues!
Swaying to and fro on his rickety stool
He played that sad raggy tune like a musical fool.
……Sweet Blues!
Coming from a black man's soul.
……O Blues!
In a deep song voice with a melancholy tone
I heard that Negro sing, that old piano moan–
……"Ain't got nobody in all this world,
…….Ain't got nobody but ma self.
…….I's gwine to quit ma frownin'
…….And put ma troubles on the shelf."
Thump, thump, thump, went his foot on the floor.
He played a few chords then he sang some more–
……"I got the Weary Blues
…….And I can't be satisfied.
…….Got the Weary Blues
…….And can't be satisfied–
…….I ain't happy no mo'
…….And I wish that I had died."
And far into the night he crooned that tune.
The stars went out and so did the moon.
The singer stopped playing and went to bed
While the Weary Blues echoed through his head.
He slept like a rock or a man that's dead.
.
.